Maple.  To me, that brings to mind the warmth of the kitchen on a Sunday morning, with pancakes and maple syrup.  And the memory of my mother's oatmeal cookies. She used to make oatmeal, maple flavored cookies with butterscotch chips, and though I always loved the scent of these, I didn't really care for the butterscotch chips.
The scent, and flavor of maple is one of my favorites.  I like to make oatmeal, with a touch of maple flavoring; add it to apples just before baking; warm milk with maple flavoring is just yummy, and numerous other recipes.
This one I made today.  I've made "blondies" many times.  I usually use chocolate chips and pecans.  But today I decided to use walnuts, white chocolate chips, and maple flavoring.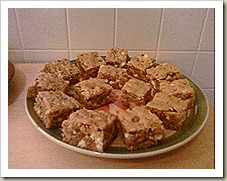 Maple Walnut Blondies
1 cup chopped walnuts (or pecans)
1 1/2 cups flour
1 teaspoon baking powder
1/2 teaspoon salt
1 1/2 sticks butter, melted and cooled (not cold)
1 1/2 cups light brown sugar
2 eggs
4 teaspoons maple flavoring
6 ounces white chocolate chips (I use Guittard, if possible)
If you have the time, roast the nuts on a baking sheet at 350 for bout 15 minutes.  Cool before using.  If not, no worries.  Roasting gives deeper flavor, as the oils are already released. 
Line a 13×9 baking pan with foil, and then spray or grease well. 
Mix together flour, baking powder and the salt in a bowl and put to the side.
In a larger mixing bowl, combine the butter and brown sugar, and whisk together until smooth.  The sugar will still be grainy, but the mix will look smooth. 
Add in the eggs and maple flavoring and mix well.
Add in the flour mixture.  Don't over mix — just mix until blended.  You don't want this to be gluey or doughy.
Add in the nuts and chips.  Pour into the baking pan.  Bake at 350, between 22 and 26 minutes, until the top is shiny and cracked.  It should be a light golden brown.  Be careful not to over bake these, as they get dry and crumbly, and aren't all that great. 
Allow to cool for about 15 minutes, and then lift from the pan by the foil edges.  Allow to cool and then cut into small squares. 
If you have any left over chocolate, melt it, and then before cutting into squares, drizzle over the top of the blondies.  Melt the chips in the microwave for 30 seconds, remove, stir, and repeat in 30 second increments, until the chips have melted.  Stir in between every time.  Then, using a fork, dip the fork into the chocolate and drizzle over the blondies.  Allow to cool, and then cut into squares.
Variations:
Use Pecans and Chocolate
Add in coconut (the unsweetened kind)
Use the above recipe, with vanilla in place of the maple
Use Hazelnuts and Hazelnut chips (I can only occasionally find these at the health food store)