A good friend of mine and I are long time users of reddit. We were discussing /r/secretsanta the other day, and talking about reddit's favorite foodage: Bacon, which has totally inspired this recipe (as well as a secret santa gift or two ;D )
Before you continue reading this recipe, please contact your physician, to get prior approval. Or take your cholesterol medication. Either way, be warned — this is full of bacon goodness!
Both of us really like Philly Cheese Steaks, and his suggestion was to use chicken to change it up.
That got me thinking about flavor profiles, and how good a bit of bacon would be, with some onion, mushrooms and chicken. All on a fresh soft bread/roll. Oh my. Bacon goodness!!
A smoked cheese is absolutely called for — I just could not imagine using American cheese, as you would with a Philly Cheese Steak. The flavor would just be wrong. A smoked cheddar, gouda or another favorite would be highly suggested.
This recipe made enough for about 4 regular sized sandwiches (6 if you are like me, and 2 if you are like my friend..lol).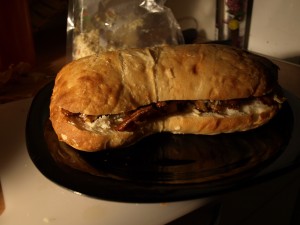 The Best Chicken, Onion, Mushroom and Bacony Goodness Sandwich
3 slices of bacon
2 large onions, sliced thinly
1 pound mushrooms, sliced
2 teaspoons oil
1 pound chicken, chopped into bite sized pieces
1/4 cup smoked cheese, shredded
good soft bread
Saute the bacon, until cooked, which should leave about 1 1/2 tablespoons of bacon grease behind.  Chop the bacon and set aside.
Remove the bacon, and reserve 1/2 of the bacon grease. With the remaining bacon grease in the pan, heat at medium heat, and then drop in the sliced onions. Saute these until golden in color and nicely tender and somewhat sweet. Remove from the pan, and set aside.
Put 1/2 of the remaining bacon grease in the pan, and heat at medium heat. Add the mushrooms, and saute until the edges are golden, and the mushrooms softened. Remove from the pan and set aside with the onions.
Using the remaining bacon grease, heat it, and the oil in the pan, and saute the chicken until no longer pink inside – a couple of minutes.
Once the chicken is done, add the bacon, onions and mushrooms back in, and heat for a minute or two, until everything is hot.
Cut the bread, and ready it for a sandwich by cutting the bread lengthwise in half. Sprinkle the cheese over top, and then add in the onion/mushroom/chicken mix.
Eat and enjoy. It's incredibly yummy.
Because of the use of bacon in all levels of prep, I chose not to use any salt. Your mileage may vary, depending upon how salty your bacon is. Use at the comfort of your palate.
Some good additions could be:
Use a little mayo on one side of the sandwich
Use roasted red peppers — drain the oil, and chop. Add these in at the end, when you mix everything together.
An addition of bit of basil would be really good
Ahh…bacon.  My love for the man who drooled badly while we made this, my admiration for the diverse, interesting and caring people of reddit that inspired me, and the incredible smell that filled the house when I cooked the bacon made this sandwich extra-extra good.  I hope you enjoy as much as we both did.  He also took the pic — thank you :)