I am one of those people who don't believe in buying a "set" of pots and pans, unless it is a really good set, with the essentials. I don't really think you need a 1 cup pot, or a 20 piece cookware set.  What you really need are a few good essential pots and pans – and they usually don't come in the sets.
Not all of the pots and pans I have are the same make — I bought the best I could find, the best pan for the job, as I found them on sale.  For example, the list price on the Calphalon Everyday Pan is $169.00.  !!!!  No way is that even near something I can afford.  However, Amazon (link) sells this regularly on sale for somewhere between $29 and $40.  Much more in line with my budget.
I recommend getting every pot and pan with a lid.  You won't always want it, but when you do, it'll be there.
1 8 Quart Pot, with steamer
1 Saucier, with lid
1 12 inch Everyday Pan, with lid
1 3 or 4 Quart sauce pan, with lid
1 10 or 12 inch Non-stick fying pan, with lid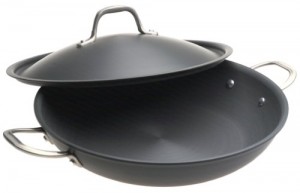 By far, the pan I use most is the Calphalon Everyday Pan.  I can saute, fry, braise, broil, bake, roast just about anything in it.  It most litterally is used every time I cook.
The Everyday pan is made of heavy-guage hard anodized aluminum, heat safe up to 450F; it's not officially non-stick, but "less" stick. Included with the pan is a dome shaped lit, also made of anodized aluminum. As with all of Calfalon's products, it has a lifetime warranty.
About the only thing that I dislike is that, with a lot of use, it discolors.  Other than that one complaint, I would make this my first purchase when buying.
The pluses to this pan are numerous — Use it to make risotto, fried chicken, delicately cooked cream sauces, pancakes, omelette's, stir fry, or roast a chicken in the oven.  Just anything.