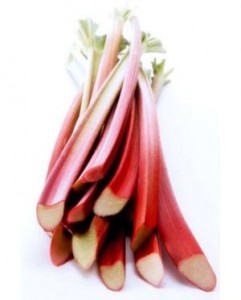 Strawberry Rhubarb Crumble Pie
1 Cup flour
1 cup brown sugar, packed
3/4 cups quick cook oats
1 1/2 teaspoon cinnamon
1/2 cup butter
4 1/2 cups rhubarb (either frozen or fresh)
2 cups strawberries, sliced
1 cup sugar
2 tablespoons cornstarch
1 cup water
1 teaspoon vanilla
Heat the oven to 350F
Mix together flour, brown sugar, oats and cinnamon.  Cut in the butter until the mixture is crumbly.  Using only half of the crumb mix, press it into an ungreased 8 or 9 inch baking dish.
Combine the rhubarb and strawberries and pour over crumb mix in the baking dish.
In a sauce pan, combine sugar and the cornstarch.  Whisk in the water and vanilla, and bring to a boil over medium heat.  Keep at a boil and stir this mixture for about 2 minutes.  Pour over the fruit.  Using your fingers, sprinkle the remaining crumb mixture evenly over the top.
Bake at 350 for 55-60 minutes.  Allow to sit until cool, and serve with vanilla ice cream.