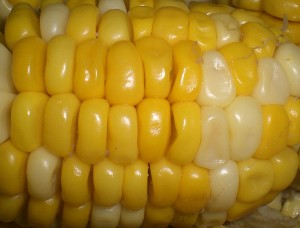 In this household, I cook just for myself quite a lot, and though I love corn on the cob, I don't usually cook it since it either requires a big pot of boiling water, or a grill.
Recently (okay, the other day), I picked up some corn at the market and as I was doing so, spoke with a woman who was selecting her corn.  She and I got into a conversation on how to cook corn for one person — the microwave.  I have done this before — a bit of water on a plate, covered with microwavable plastic, and cooked for 3-4 minutes.  Her suggestion was just as easy — wrap the cob in a wet paper towel and cook for 3-4 minutes.
This worked out fantastically.  I'm pretty sure I'll be eating a lot more corn this summer.