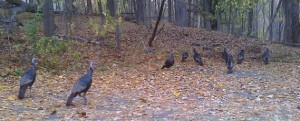 It's been a long while since I posted — My life has been rather hectic and busy over the last few months.  Hopefully, it will begin to slow down soon.
I haven't been doing all that much cooking, but subsisting only.  I've become fast friends with the cashier at my local town market (Kobackers), where I have been purchasing pre-made vegetable salads, fruit salads, "rotisserie" style chicken, and whatever the daily special was.  And a lot of yogurt.  A lot.
Luckily for me, work & teaching are now allowing me a bit more time, and I really want to get back into cooking, and creating recipes.  I really have missed it this last year. 
This previous weekend, I made a cheesecake, and the act of actually baking really reminded me that I do so love to bake & cook.  My goal for this coming year is write a lot more — with recipes, of course, but more articles and information.
I'll start this with a refresher on Thanksgiving Recipes.  This is a collection of my favorite recipes here on the site relating to Thanksgiving.  There is a little bit for everyone.
I'll be making a pumpkin cheesecake this weekend, and will post the recipe (along with a maple pecan glaze recipe that is to die for), next week — just in time for you to test out for your holiday dessert.
Enjoy!
A few of my Thanksgiving Recipes as a collection:
Thanksgiving Day
Dinner:
How To Cook A Thanksgiving Turkey
Sausage & Mushroom Sage Dressing /Stuffing
Twice Baked Potatoes, with Onion, Peppers and Bacon
Acorn Squash with Cranberry and Apples
Orange Cranberry Sauce, with Cinnamon and Pecans
Desserts:
No Bake Pumpkin Pie, with Pecan Crust