Food…What is it about food?  I'm either into it, and creating recipes like mad, or it's Ritz Crackers and cheese or Shredded Wheat for dinner.   And I'm stuck in that rut of cereal for dinner, or the easiest meal I can come up with.  Lately, it's been my local market for a pre-made salad, or a rotisserie cooked chicken.  Or Trader Joe's for whatever freezer stuff they have on sale.
All of which means I've been eating like crap.  Not enough good healthy foods.  My feeble attempt at trying to start cooking again has led me down the path of "buy stuff I am not going to cook that will rot away in the refrigerator".
Take a look over there to the right of your screen and you'll see the archive listing.  November 2010 was my last post?!  Really?!?  What the heck have I been doing for all these months.
Oh, yeah.  Cereal.
*bangs head on desk*
The most adventurous I've been able to come up with is a rhubarb pie, and even that little bit of simplicity sucked.  My pie dough looked as though a first time baker had done it.  Worse, perhaps, because my first pie dough was really good!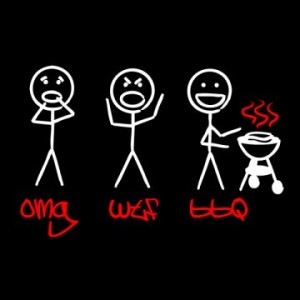 I'm going to try and start with some simple things this coming weekend.  I'm going to a picnic/bbq/fireworks/alcohol..thing.  I'll make a couple of items:   Some chicken cutlets.  Some potato salad.  Some fruit salad.  Nothing mind blowing, just good, wholesome dishes.
I guess we'll see.  If you start seeing posts here, I've found my food grooooove again. Otherwise, I'll be back later.  Really.