When you do low-carb, you miss regular old junk food snacks.  Sander and I decided last spring to and remake our "triple dipped poppers" by using crushed pork rinds, making these low carb.  We've experimented with them a few times and this is the final recipe.   These are double dipped in egg and crushed pork rinds, allowed to dry a bit, and then deep fried.  They are completely over-filled with the cheese mixture, which gives you a great bite of pepper, cheese, and crunch.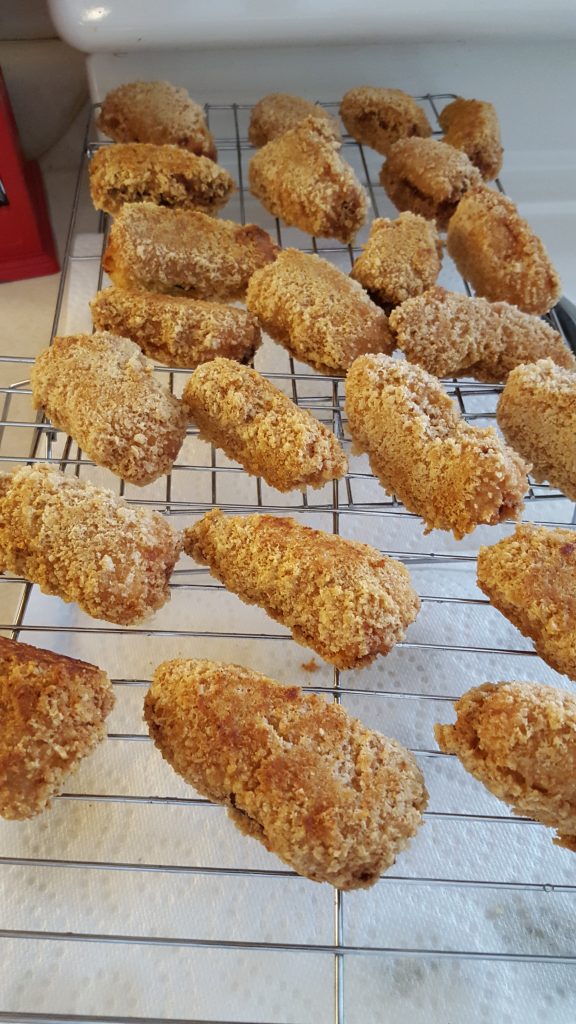 Jalapeno or Pepper Poppers – Low Carb
8 Ounces (226g) Cream Cheese, room temp
2-3 cups shredded cheese
Spices, to your taste *See note below
4-6 eggs
15 mini sweet peppers or jalapenos, split lengthwise, cleaned and seeded
2-3 bags (3 ounce bags) pork rinds
Lard, enough to deep fry in your favorite fryer.
Crush the pork rinds in a blender.  If you don't have a blender, use a rolling-pin to crush.  The finer the crush, the better.
Mix the soft cream cheese with the shredded cheese and any spices you choose.  I use almost type of cheese – mix and match!  Mozzarella, cheddar, muenster..your choice.   Set aside and clean and prep the peppers.  Slice peppers lengthwise and, using a spoon, remove all the seeds.
In a bowl, mix the eggs well.  You may need more eggs, so have at least 2 more ready to go. Pork rinds soak up a lot of egg, but the egg helps give this a crispness that makes these so yummy.
Fill each pepper — and really over fill them.  Much more than you think they should be filled.  You almost cannot put too much in — they should be heaping.  Round the mix to fit the pepper.
Once all the peppers have been filled, dip each into egg and then directly into the crushed pork rinds.  Set aside and continue to dip the rest of the peppers.   Allow to sit for 10 minutes to dry.  Now repeat – dip each pepper into egg and then into the crushed pork rinds for a second time.   Allow to sit for another ten minutes.
Heat oil to 385F (195C)  in your favorite fryer – could be a Fry Daddy or a small pot of oil (on the back burner!!).  Add in peppers.  I do 2 or 3 at a time, as I have the small Fry Daddy.  Allow to fry for 1 minute or so.  Pull one out and check it – outside should be crispy, and when you cut into it (don't BITE into it), the cheese should be melted well.  I find that as I go through the batch, they take between 30 seconds to 1.5 minutes, depending on how large the poppers are and how hot the oil is.  I let the oil re-heat after each batch for about 30 seconds.
Remove the poppers from the oil and allow to drain, preferably on a rack, which will help to keep the poppers crispy and crunchy.  Serve as soon as the last popper comes out of the oil.
Serve as is, or with a favorite sauce.
Notes:
Using pork rinds works really well for a breading.  However, when you deep fry anything with pork rinds, you'll find that some of the crumbs just slough off.  You may need to remove these as you go along deep frying.
*Add in spices – maybe a little Chili powder or cayenne powder or a dash of red pepper flakes – enough to taste good to you.
You can freeze these after frying.  To reheat, 400F (205c), for 8-12 minutes, depending on how small/large your poppers are.
Nutrition Information is for 1 popper.