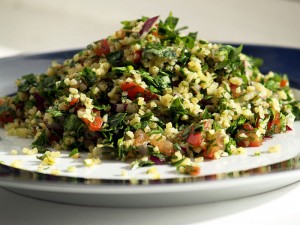 Tabouli is a Middle Eastern dish that I became aware of at a party given by some friends, who had it catered from a Middle Eastern restaurant.  I immediately loved the creamy texture of this salad, with the delicate flavors of the tomatoes and spring onions.
This salad is great for summer picnics, barbeques – it can be served as a side dish, or as an alternative dip for chips.
I also like this wrapped up in thin slices of roast beef, or leaves of lettuce for an easy lunch.
I usually prepare this in the traditional way, with slight variations when I feel the need. I sometimes add in finely chopped red peppers, or hot peppers.  And I've made this without mint or parsley – This is great with basil, or with cilantro.  The cilantro version is fantastic with refried beans, or as a topping with tortilla soup.
I tend to use instant couscous, instead of bulgur, because of the ease of prep. I've also tasted tabouli made with quinoa, as well as pastina, giving the salad a different flavor and texture.
Enjoy!
Tabouli
2 cups fine bulgur (or use couscous)
2 cups very hot water
1 cucumber, peeled, seeded and diced

3 Roma tomatoes, seeded and diced
1 Red onion (Or, for traditional, use Scallions)
1/4 cup fresh mint, chopped fine
2 cups fresh parsley, chopped fine
1 clove of garlic, minced fine (you can leave this out 1/2 cup fresh lemon juice
3/4 cup olive oil
1 teaspoon of salt (or to taste)
1 teaspoon pepper, freshly ground
If you are going to use the bulgur, soak it in the hot water for about 30 minutes, and then drain.  If it is overly wet, squeeze dry.
If you are going to use couscous, prepare as directed — usually 1 cup of water to 1 cup of couscous.  Bring the water to boil, add the couscous, and remove from the heat, allowing it to sit for about 5 minutes.
Combine the couscous, cucumber, tomatoes, onion, mint and parsley together.  In another bowl, combine the garlic, lemon juice, olive oil and then mix together with the couscous-vegetable mix.
Refrigerate, and allow the flavors to meld for about 2 hours.
You can serve this either chilled, or at room temp.  Keeps for 3-5 days, refrigerated.